This page is for applicants who: 
–       Were previously registered/licensed as a Licensed Practical Nurse in Saskatchewan; and
–       Are not currently registered/licensed as a Licensed Practical Nurse in another province outside of Saskatchewan.
If the above applies to you, please begin your Licensed Practical Nurse (LPN) re-licensure application by clicking on the Member Portal and logging in.  If your email address has changed since you were last licensed with the SALPN, you will need to email us at registration@salpn.com to have it updated and your password reset.
On the home screen of your member portal, click apply in the Practicing box.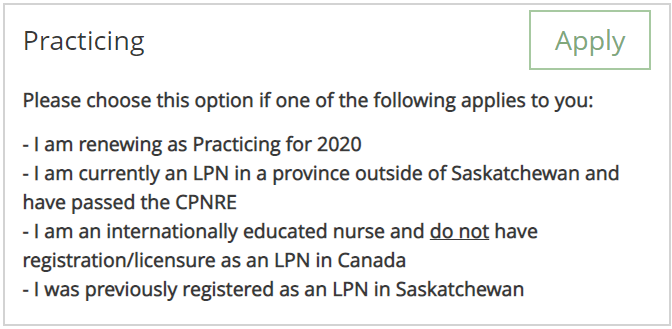 Click here view the SALPN Fee Schedule
Once you submit the information above, a friendly SALPN Registration team member will review your information. If satisfied, the team member will provide you with access to continue your application journey. You will be notified of this via email!